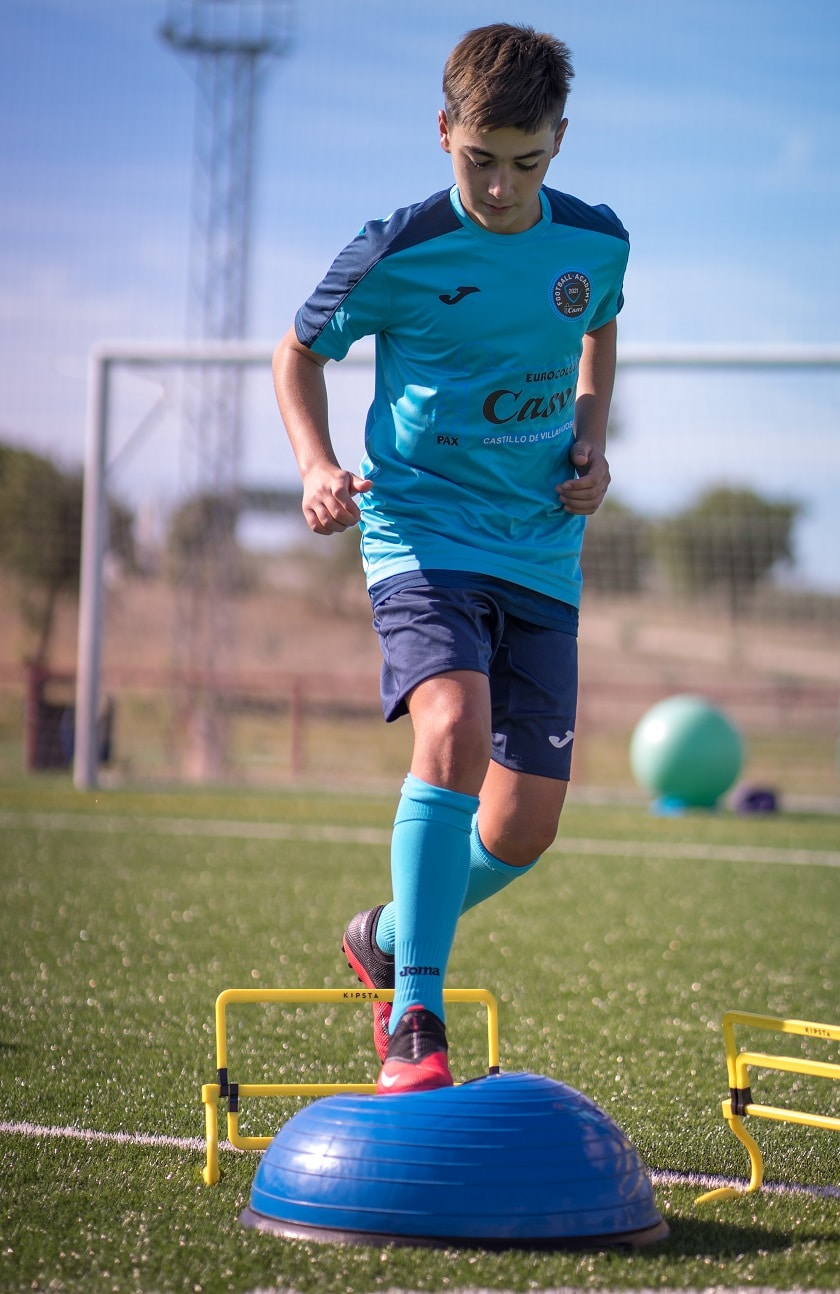 ADVANTAGES OF CASVI FOOTBALL ACADEMY OVER OTHER CENTERS
Casvi Football Academy roots its identity as a football academy for children between the ages of 12 and 16 years old. It focuses on three fundamental pillars, which differentiates ourselves from the rest of football academies in Spain: academic excellence, its high performance center and the vital and personal experience, which means living in Madrid during a critical time in one's life adolescence.
Academic Excellence plus High Performance Football Training
Casvi Football Academy is a High Performance Football Academy whose goal is to give young people around the world the opportunity to combine their sports development with a quality education. Experience has shown how important it is for a professional athlete to have a strong foundation in both academic and physical training.
Casvi School Group, with more than 30 years of experience accompanying young people on their way to academic training success, offers players the possibility to follow the prestigious program of the International Baccalaureate. In this manner they are able to choose between two modalities:
We are looking at two schools which showcase the excellence of theCasvi model; two educational systems, both fostered by the International Baccalaureate Organization, and a single High Performance Football Academy. All of these reasons make Casvi Football Academy a highly qualified prestigious football school in Spain for the training of your sons and daughters, with a unique value compared to other football schools for children. Additionally, we know that through a cohesive educational and sports program, we can, according to Nano Rivas, Head of this football academy, 'enhance all the virtues of our students, without causing interference between the two aspects: adapting schedules, completing classes with the possibility of using the online modality if necessary"…
Another example that also sets Casvi Football Academy apart from other football academies in Spain is the fact that we have our own methodology. This is based on the sports experience of the Head of this football academy, Nano Rivas, and the coaches who make up the technical staff. All of them have played in Spanish Premiere League teams and have been part of the technical staff of professional football teams.
All of them provide the necessary experience to develop and direct our players towards professional football. This great working team which makes this football school for children so different from the others, has experienced all the stages of a player's development, from the most formative years to the arrival at that professional world. For this very reason, they will also be the most suitable ones to meet the demands of this project, motivated by its internationality , as it will feature players from different cultures and countries and different ages. Additionally, they will be able to relate to what the students are going through and will be able to show great understanding and empathy towards them!!
Life experience
At Casvi Football Academy we will turn the vital experience of studying in Spain, in an International School, and training in a high-performance children's football academy into a lifestyle. Madrid, as the capital of Spain and an emblematic city in Europe, will contribute to the evolutionary moment of the young people who will be part of our project, everything that is necessary for them to open their minds to a full vital, cultural and educational experience.